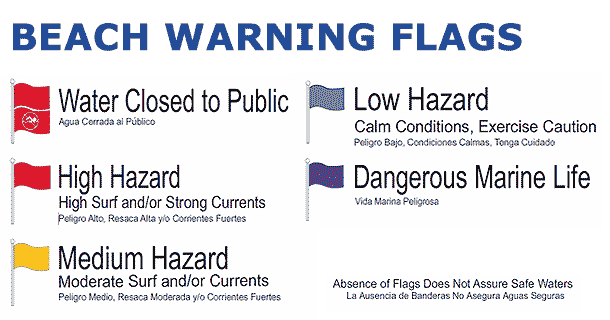 Your safety and enjoyment of Volusia's beaches are affected by changes in tide and surf conditions. To minimize the risks of drowning or serious injury, Volusia County uses beach warning flags in four colors accompanied by interpretive signs along the beach to explain the meaning of each color.
Green: Low hazard, calm conditions, exercise caution.

Yellow: Medium hazard, moderate surf and/or currents.

Red: High hazard, high surf and/or strong currents.

Red over Red [i.e., two red flags]: Water closed to the public.

Purple: Dangerous marine life.
*Absence of Flags Does Not Assure Safe Waters
The uniform flags and signs, which use the colors adopted by the International Lifesaving Federation are in use thorough Florida. 
While the beach flags provide general warnings about overall surf conditions, they do not specifically advise the public of the presence of rip currents. Because increasing awareness of natural conditions which pose a significant risk at the beach, such as rip currents, is a critical element to improve public safety, the County of Volusia also post Rip Current Educational signs. These signs are posted on Lifeguard towers, beach toll booths, beachside parks and other locations.